You are here
Types of stay for foreign students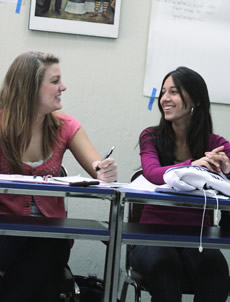 Stays for courses
As student of other educational institution from Mexico or from outside, you can aspire to take a course in the University of Guadalajara by attending classes in any of the University Centers.
The University affords this exchange service through its Student Mobility Program supported by cooperation agreements with other education institutions, this allow the financial backing of registration and validation of previously coursed subjects.
---
Stays for research or professional practices
As external student you can take part of any research project inside the University of Guadalajara.
In this case the prerrequisites can vary depending the area of exchange of the pupil.
More information
You can obtain more information by visiting the website of CGCI: General Coordination for Cooperation and Internationalization.
Interinstitutional and International Relations Unit
Address: López Cotilla 1043, Col. Centro, C.P. 44100, Guadalajara, Jalisco, México
Phone numbers: 52 (33) 3630-9591, 3630-9890 and 3630-9891
---